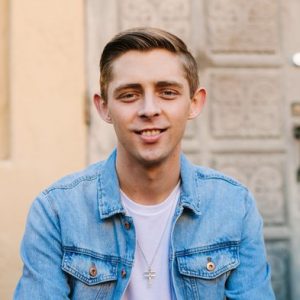 The latest thoughts from Brandan:
Brandan Robertson is a noted author, activist, and pastor, working at the intersections of spirituality and social renewal. He currently serves as the Lead Pastor of Missiongathering Christian Church in San Diego, CA and serves as the Executive Director of Metanoia.
A prolific writer, he is the author of Nomad: A Spirituality For Travelling Light (DLT Books, 2016), True Inclusion: Becoming Communities Radical Embrace (Chalice Press, 2018), Gay & Christian, No Contradiction (Nomad Press, 2016), The Gospel of Inclusion: A Christian Case for LGBT+ Inclusion (Cascade Books, 2019), the editor of Our Witness: The Unheard Stories of LGBT+ Christians (Cascade Books, 2018), and a contributing author to The Preachers Guide to the Lectionary- Volume 2 (WJK Press, 2019), Praying in the Frat House, Kissing in the Chapel (Rowman and Littlefield, 2016), and Rally: Prayers for the Lovers of God and Neighbor (Upper Room Books, 2019).  He also writes regularly for Patheos, and has bylines in TIME Magazine, Dallas Morning News, The Huffington Post, NBC, and The Washington Post.
Robertson speaks to audiences across the globe and has been an honored speaker at renowned institutions like The White House, Oxford University, The U.S. Peace Corps Headquarters, and The Parliament of the World's Religions. He teaches seminars at San Francisco Theological Seminary and is a consultant and facilitator with Auburn Theological Seminary. He is also a founding member of The Union of Affirming Christians (Union Theological Seminary), and has served as a board member/advisor to the Democratic National Convention, Department of State, Department of Health and Human Services, Red Letter Christians, and The Humane Society.
Named by the Human Rights Campaign as one of the top faith-leaders leading the fight for human rights, Robertson has has worked with political and social leaders around the world to end conversion therapy and promote LGBT+ rights. Robertson currently serves as the co-chair of San Diego Pride's DevOUT Interfaith Coalition, has served as the national spokesperson of Evangelicals For Marriage Equality and developed the Evangelical Outreach Program for Faith In Public Life and the Bridging the Divides Program for Interfaith Alliance of Colorado. 
Robertson received his B.A. in Pastoral Ministry and Theology from Moody Bible Institute and his Masters of Theological Studies focused on sexual and gender justice from Iliff School of Theology. He currently resides in San Diego, CA.
Website: http://www.brandanrobertson.com/
Facebook: https://www.facebook.com/brandanjrobertson
Twitter: @BrandanJR