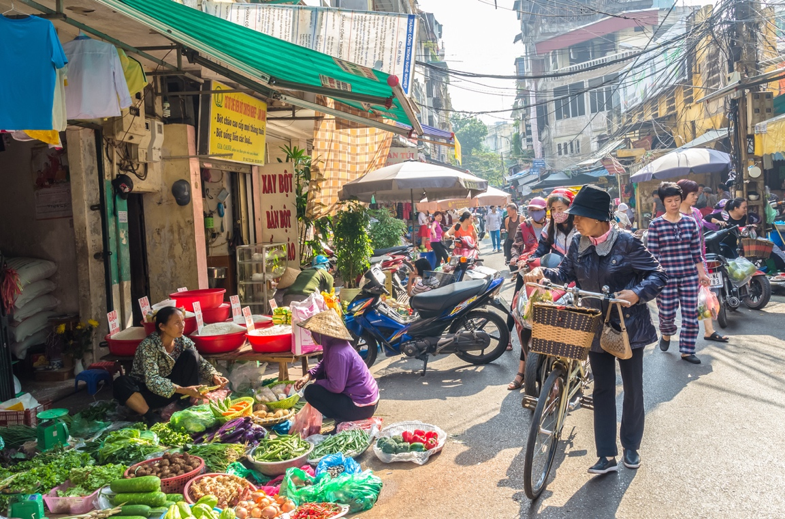 (Hanoi, Vietnam)
The Sandwich Generation
When I was writing my midlife memoir, I read up on the particular challenges of "middle adulthood," as it's sometimes so tastefully called.
What I learned was, on the whole, reassuring.
Instead of grimly reporting that midlife is defined by crisis and loss, many scholarly articles, such as this one say that's a misconception based on outdated studies, and that, instead, it can be a time of growth, reconciliation, and meaning. True, there are common hardships and losses to contend with during this period (you know the greatest hits: children leaving the "nest," the care of aging parents, and new physical limitations), but middle age can be a dynamic, liberating time.
So…what does all this have to do with Bánh mì? Fair question. First, though, for the uninitiated, I should explain that Bánh mì is a Vietnamese sandwich that's been called the "best sandwich in the world." (I wholeheartedly agree.) And no, associating midlife and Bánh mì here isn't just a silly play on words (#sandwichgeneration).
Rather, it relates to my desire to navigate midlife well by choosing generativity over stagnation. Developmental psychologist Erik Erikson defined the eight stages of personality development and warned against apathy and inaction in this period. His research, as well as more recent findings regarding neuroplasticity, have changed our approach to midlife. We know that, to keep the brain nimble in middle age and beyond, we need to move our bodies as well as play games, do puzzles, take risks, and try new things…which could include new recipes.
Me and Bánh mì
I had my first vegetarian Bánh mì in Nashville several years ago. I'd seen the meat versions, sold on the narrow streets of Hanoi, Vietnam about 20 years prior when I was traveling there for work. There are many reminders of French Colonialism in Hanoi: wide, tree-lined avenues, cafés, the grand opera house…and baguettes.
Reportedly, Bánh mì began as butter and pâté on baguettes, but after Vietnam declared independence from France in 1954, the people also reimagined Bánh mì, often ditching the pâté and adding pickled vegetables, fresh herbs, and meat.
The vegan version I ate in Nashville featured tofu. Do you remember the old SNL short, "Lazy Sunday" and its lyric: "Mr. Pibb and Red Vines equals crazy delicious!"? The crispy tofu, the tang and crunch of the pickled veggies, the spicy mayonnaise, the bite of jalapeño, and (sorry cilantro-haters) the fresh hit of cilantro made me want to burst into song.
I've had many other meatless versions since then, including ones made with jackfruit or with shrimp. (If you're in Chicago, by the way, visit Saigon Sisters and order the Teriyaki tofu Bánh mì. Best I've had in the city.)
On New Year's Day, I always try to do something for the very first time, just to kick the year off right. This year, I made Bánh mì. I even pickled my own veggies, something else I've never done before. I bought the bread at a local Vietnamese market, but if you can't find one, Kaiser rolls would be a good substitution. (If you want a run-down and sneak preview of how to make Bánh mì, click here.)
All to say, if you're new to Bánh mì or if you're experimenting with "Meatless Mondays" for your health or the health of the planet, give it a shot. It is crazy delicious and trying a new recipe might even keep your brain a bit nimbler, too—whether or not you're a member of the sandwich generation.
—
My favorite vegetarian Bánh mì recipes are:
Tofu Bánh mì from My Darling Vegan
Vegetarian Bánh mì with Crispy Tofu from Cooking Light
Seared Tofu Bánh mì from Love and Lemons
Here's a cookbook devoted to The Bánh mì Handbook: Recipes for Crazy Delicious Vietnamese Sandwiches. (See? Crazy Delicious!)