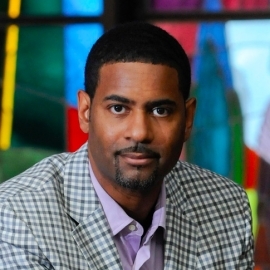 With civil rights advocacy in his DNA, Rev. Dr. Otis Moss III built his ministry on community advancement and social justice activism. As Senior Pastor of Trinity United Church of Christ in Chicago, Illinois, Dr. Moss spent the last two decades practicing and preaching a Black theology that unapologetically calls attention to the problems of mass incarceration, environmental justice, and economic inequality.
A native of Cleveland, Ohio, Dr. Moss is an honors graduate of Morehouse College. He earned a Master of Divinity from Yale Divinity School and a Doctor of Ministry degree from Chicago Theological Seminary. He returned to Yale in 2014 to present the famed Lyman Beecher lectures.
Dr. Moss is an ordained minister in the Progressive National Baptist Convention and the United Church of Christ. He is on the boards of Auburn Seminary and Faith-In-Place/Action Fund, and chaplain of the Children's Defense Fund's Samuel DeWitt Proctor Child Advocacy Conference. Additionally, Dr. Moss is a Senior Fellow in the Auburn Seniors Fellow Program.
Website: https://trinitychicago.org/rev-dr-otis-moss-iii/
Twitter: @om3
Facebook: https://www.facebook.com/people/Otis-Moss-III/100011769914222