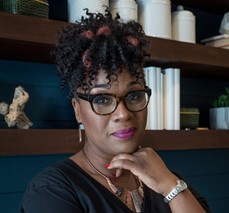 Dr. Sabrina T. Cherry is a teacher, writer and speaker. Her professional experience includes two decades of working and volunteering in the field of Public Health, including serving as United States Peace Corps Volunteer in The Gambia, West Africa. As an Assistant Professor at UNC Wilmington, Sabrina has published over a dozen journal articles, book reviews, and commentaries. She has also presented at nearly three dozen local, national, and international conferences. As a sought after speaker and researcher, Sabrina's work focuses on the intersection of religion and health; narrative and other forms of qualitative research; health disparities; as well as equity and social justice. She has won multiple awards for her research and service including the 2018 National Economic Development Award, the Distinguished Scholarly Engagement and Public Service Award, and the 2020 Franklin H. Williams Award.
Sabrina earned a Master of Science in Public Health (MSPH) degree from the University of South Carolina, a Master of Theological Studies (MTS) from Emory University, and a Doctorate of Public Health (DrPH), as a well as a Certificate in Interdisciplinary Qualitative Research, from the University of Georgia.
Sabrina curates our Faith and Health section.
Website: https://sabrinatcherry.com/
Facebook: https://www.facebook.com/SabrinaTCherry
Twitter: https://twitter.com/SabrinaTCherry
Instagram: https://www.instagram.com/sabrinatcherry/
Pinterest: https://www.pinterest.com/SabrinaTCherry/